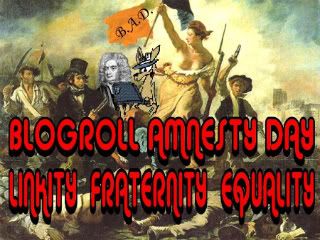 These are blogs that I discovered recently and I enjoy. I found a couple of local gems.
Ob Rag Blog
Freaks, Uppity Women and Politicos
(I was born in OB, heh)
Indigenous Nudity
A frank commentary of American politics, personal finance and culture.
One Sided War
gods are mean but people are worse
Oh Well: A Commentary on News and Politics
This is a blog examining the political, social and economic issues from my own irrelevant perspective. When examining some of these issues, I just have to shake my head and say, "Oh well. Whatever happens, happens."
San Diego Politico
News, commentary and opinion dedicated to advancing a Progressive Political and Social agenda here in San Diego County.
The Rational Realist
Opinions and insights on alternative investments with a focus on real estate securities.
Angry Renter.com
Renters and responsible homeowners against a government mortgage bailout