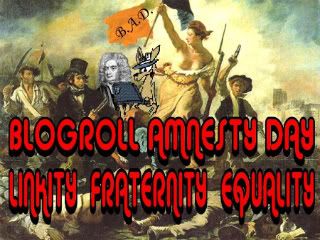 This
BAD
thing is fun. I've been moving outside of my comfort zone and have rediscovered blogs that I used to read a long time ago , but thought they had completely quit. I've also been checking out what other bloggers have found and proudly posted. I've added
Jon Swift
and
Blue Gal,
because frankly, they have some great stuff on their blogs.


Blogrolling
is still doofed up, So I'll have to change the blogroll slowly, one by one. I don't have a humongus blogroll because I try to check every one at least twice a week, maybe less if you blog less, maybe more if you blog more. Maybe I'll change the blogrolls around a bit. There are so many blogs I've never visited before, heh, I feel like a kid in a candy store.
Wheeeeeeeeeeeeeeee!

Here's my six picks again.
Ob Rag Blog
Freaks, Uppity Women and Politicos
(I was born in OB, heh)
Indigenous Nudity
A frank commentary of American politics, personal finance and culture.
One Sided War
gods are mean but people are worse
Oh Well: A Commentary on News and Politics
This is a blog examining the political, social and economic issues from my own irrelevant perspective. When examining some of these issues, I just have to shake my head and say, "Oh well. Whatever happens, happens."
San Diego Politico
News, commentary and opinion dedicated to advancing a Progressive Political and Social agenda here in San Diego County.
The Rational Realist
Opinions and insights on alternative investments with a focus on real estate securities.
Angry Renter.com
Renters and responsible homeowners against a government mortgage bailout